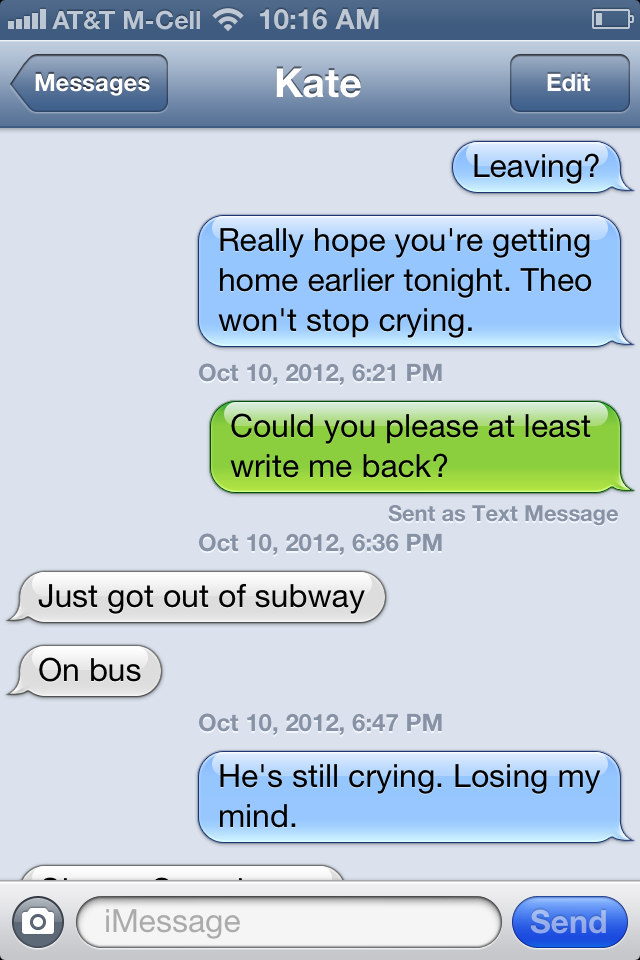 One really depressing thing I like to do at the end of a day is scroll up the text screen on my phone and read all the texts I've sent to Kate over the last couple weeks. My screen looks something like this:
(5:23pm) Me: ETA?
(5:34pm) Kate: Will be here a bit I'm afraid.
(5:35pm) Me: Goddamn.
—next day—
(6:03pm) Me: Have you left yet?
(6:07pm) Me: Please tell me you've left.
(6:10pm) Me: Have you really not left yet?
—next day—
(5:02pm) Me: ETD?
(5:15pm) Kate: Leaving shortly.
(5:16pm) Me: Sweet Jesus.
—next day—
(4:12pm) Me: Feel like coming home early today?
(5:14pm) Kate: Can't. Sorry, honey.
—-next day—
(5:50pm) Me: Leaving soon?
—next day—
(6:05pm) Me: Left yet?
—next day—
(5:40pm) Me: Try to leave by 6 today will you pls?
(5:50pm) Me: Please?
(5:54pm) Me: You there?
(6:02pm) Me: Guess you're not leaving by 6.
(6:05pm) Me: So mad at you right now.
(6:12pm) I call Kate. She doesn't answer. I leave a voicemail message…I hold the phone out and just let the kids cry into it.
Here's a screenshot of a recent exchange: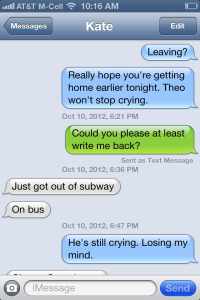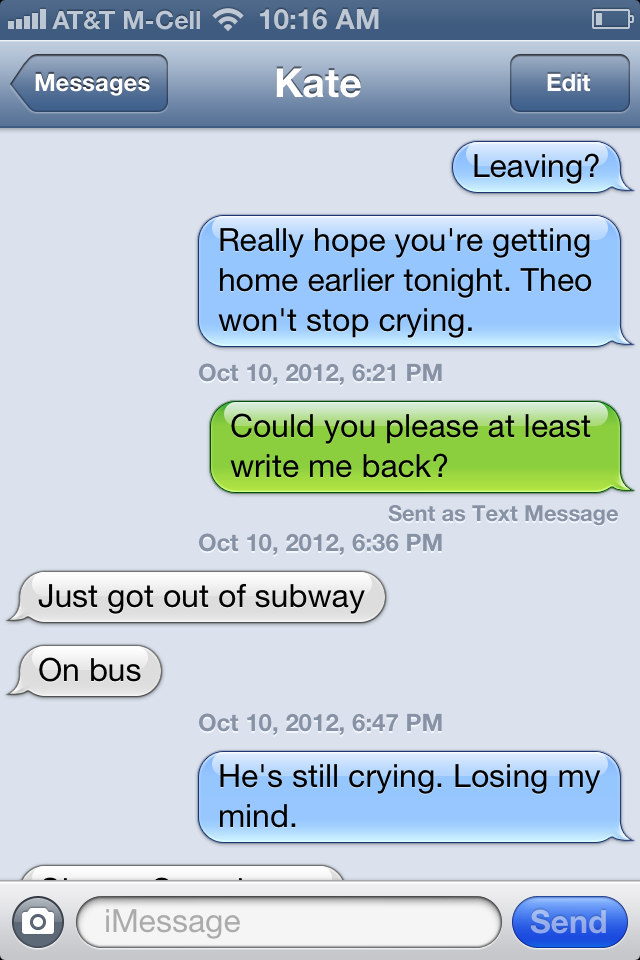 Kate's commute to and from work involves a bus and a subway –not really uncommon for suburban folks. But for her commute home, her subway ride to the bus station is about twice as long as her bus ride from the city to our house. She texts that she's leaving, I breathe a sigh of relief and then an hour later she texts saying she's made it to…Manhattan. And she's checking bus schedules.
This is my low moment of the day. Hers too probably. But mine's lower.
It's hard making dinner with one hand. It's hard for me to make dinner with two hands. But Theo needs to be held at dinnertime because deep down he knows this is when I most need him to sit quietly on his own.
I'm draining boiling pasta with one hand and bouncing Theo with the other — the cliché single-parent-in-the-kitchen movie scene. Louisa is freaking out about something totally bizarre because she hasn't peed since breakfast. I'm yelling at her to go pee but she's hell-bent on climbing up my body to get up onto my head. (Louisa's brain wires are crossed somehow so that when her brain gets the message from her bladder that it's full, the message is translated into a desperate need to climb up onto my head. It's definitely weird, like something Oliver Sacks would write about.)
Then Theo starts to cry because, between the plume of steam that just billowed up in his face, my wiggling to try to shake Louisa off my torso, and my yelling at her in his ear, he's a little scared.
Then there's George.
"Daddy, daddy, daddy. Hey daddy. Daddy. Daddy…daddy look, daddy. Daaaadeeee. Daddy. Daddy. Daddy. Daaaaaadeeeee! (starting to cry) DADDY! I turn to him, Louisa now across my shoulders like a fine fur, Theo screaming, pot of pasta in hand… "WHAT, George?!!?" He lifts his hand, shows me his three middle fingers. They're sort of crossed over each other. "This is actually pretty comfortable," he says.
I look at his semi-contorted fingers. I look him in the eyes and I take a deep breath. I try to convey my pain through this look but he doesn't see it. He just sees what he wants to see –my amazement that he could put his fingers in this position AND that it would actually be pretty comfortable.
Those hormones that are activated by the sound of one's baby crying…it seems siblings don't have them. The one's that might help a person kill lots of people and not feel any remorse afterwards…they've got those.
It's not long before I get to pull out my phone and record all three kids crying again. I'm behind in my one-armed cooking. The kids are hungry. They're crying. As a parent, you never want to reach this point. For normal people, as well as just about every other multi-celled organism on earth, the sensation of hunger is connected to the urge to procure a food item. Not so for children. Hunger just sends their ill-equipped brains into spasms of utter nonsense. Alone in the wild this behavior would not facilitate the passing on of one's genes. Not only is the child not getting the sustenance it needs but the behavior itself –lots of movement, loud noises—is likely to attract predators. (Sometimes I look at our dogs and imagine them leaping across the kitchen floor and taking down the member of our pack that's calling too much attention to our location. But the dogs' uselessness is pervasive. It would never happen.) So, point is, there's no evolutionary explanation for this behavior other than maybe to strengthen the bond between parent and child. But that's a real stretch because, if anything, my children's behavior at dinnertime makes me fantasize about my dogs tackling and eating them.
I don't think there are many completely inexplicable behaviors out there, from an evolutionary perspective. I feel like I've done good work in discovering this one.
So, at this point in the evening, I tend to start piling on the misery with a little helping of my own. I watch the clock, I stew and fester, imagining Kate at her desk, scrolling items on Anthroplogie.com, checking the clock, thinking of the train she needs to hustle to get and going, 'eh, I'll get the next one." I make up a whole scenario and I literally drive myself crazy. I imagine it all: Coworkers she's yapping with (though Kate's not much of a yapper, I still entertain the thought) when she's supposed to be leaving, stores she's popping into as she moseys to the subway…sometimes I imagine her just sitting on a bench. Waiting. Because I think that's what I'd do.
With food in their stomachs, the kids suddenly turn chatty. And happy.
I'm always amazed by the lack of self-consciousness a child displays when their mood changes as abruptly as it so often does. I want to ask them: "Are you not a little embarrassed about what just went down here? The absolute shit storm of illogic you just exhibited? No? Nothing?"
It also never ceases to amaze me how every day I'm puzzled when the tantrums begin, try to reason with them, fail, feed them and then have the same light bulb moment: Oh yeah, they were hungry. But each day I begin anew, Momento-style, free of my hard-won wisdom from the day before. I should write it on my hand in permanent marker: "They're hungry."
"Raise your hand if your favorite color is blue." George announces.
"Daddy, raise your hand, your favorite color is blue." I raise my hand.
"Raise your hand if you're…happy." Louisa chimes in. They both raise their hand. They look at me. I raise my hand.
"Raise your hand if you love Theo soooo much." George says. We all raise our hands. "Like so so so so so so so so so so so so so so so so so so so so so so so so so so so so so so so so, like two MILLION much. Daddy, is that a number?"
"What?" I ask, hoping he moves on. He asks this question a lot and every time I offer the same answer that only frustrates him terribly.
"Two million."
"Yeah, it's a number."
"How much is it?"
"Two million."
"But how MUCH is it?" His voice is gathering angst.
"It's two million. That's how much it is. Two million is a number and it's two million."
He's about to lose it when Louisa rescues me. "Raise your hand if…you…blahbabalagagdah." They both raise their hands and laugh.
I'm glad they're happy on the one hand. But on the other hand, the one that's bigger, I'm holding a grudge for the shit they just put me through and are now so ridiculously unrepentant for. I can't help but wonder how I'm supposed to keep going like this with these people who just do not care at all for my wellbeing?
"Raise your hand if you're tall." George says. "Daddy, raise your hand! Daddy!"
I raise my hand. But this time it's the one holding my third beer of the evening.
"Raise your hand if…" George starts.
I interject. "Raise your hand if you think this game sucks."
I want to say this. So much. But I don't. Instead, I kill the game humanely: "Raise your hand if you want dessert."
Kate's arrival, usually around 7:30pm, never quite offers the relief I've been imagining throughout the day. She's home. It's good to see her. But the shit just keeps going. And now, there's actually an added strain…that nagging feeling that the she's not doing enough. Solo parenting sucks but at least it's clear who has to do it all. So why do I beg and plead and bitch and moan and reduce myself to this lameass weiner of a husband and father every day? Why these pathetic text messages?
Three reasons, I've determined.
One, the suburbs. Kate is physically very far from us throughout the day. Distance exaggerates time. If Kate worked down the street and got home at the same time, I estimate that my level of suffering would go down roughly 27%. (The paradox however is that too close is sometimes worse than close. If she worked from home, I think my suffering might actually go up. It's the so close and yet so far thing…she's right here, she can hear everyone crying, why the hell isn't she helping? That sort of thing.)
Two, Kate is the mother of these children. She understands. She's making it up as she goes too and the stakes –potentially rotten children—are just as high for her. And so watching her struggle with our children is therapeutic for me. In a romantic sort of way. We're in this together. We're a team. We're the mom and dad. I never got to see my parents be the 'mom and dad'. It was mom for four days, dad for three. I appreciate flailing together in a way most people don't get to. For that, I'm lucky.
The third reason why it's all so hard for me was pointed out to me by an acupuncturist my mom dragged me to about fifteen years ago during a time I was feeling particularly mopey and sickly. She was an old, Chinese lady –just the type you'd imagine. She told me to open my open mouth and stick out my tongue. She gave it one look up and down and said, simply, "You have a weak constitution." She then stuck needles in my face as my mom looked on, visibly pleased with her mothering.
Those were the only words the lady said to me. I told this little story to Kate soon after we started dating. Full disclosure, this is what you're getting in to…that sort of thing. She just laughed. It didn't phase her one bit. I could see even then that her constitution was different, belonging to a certain pedigree of long-suffering, war-torn Brits. I was 32, still complaining about my parents getting divorced. 31 years ago. The needles clearly didn't work. But Kate has. I can complain all day long with her. And then again at night, on my blog. Thanks, Kate. Thanks, blog.